There are as many interior garden styles and design ideas as there are succulent species, so finding the right planters for your collection is a challenge at times. To make it a little easier for you, we researched the best 21 succulent pots and put them into six different categories.
For easy navigation, just click on one of the categories below to see our favorite choices.
Table of contents:
Pick your favorite and plant away!
1. Ceramic Owl Succulent Planter
We love ourselves a combination of cute and functional! These planters come in a pack of 6 with two different owl designs and varying pastel colors. They have drainage holes, so you won't have to worry (that much) about root rot in your succulents. 
To prevent water from spilling everywhere, each planter has its little bamboo saucer. They even come with small grates to place over the drainage holes to prevent soil from spilling!
2. Anpatio Corgi Succulent Planter
Attention corgi lovers!
Your favorite dog breed also exists in the form of a set of 2 adorable planters. With 2" of planting space, they're a great choice for small succulents for a desk or limited windowsill space.
Like the previously mentioned owl planters, these have a drainage hole to prevent standing water. However, they don't come with a saucer so you'll have to get creative.
3. T4U Fox Succulent Planter
Here's another cute animal planter design! This set of three ceramic foxes comes in a pack with different colors and makes a great addition to any room. 
At a 3.8" width, these are a little larger than the planters mentioned above, so you won't have to stick to the absolute smallest succulents to plant in them.
They come with a drainage hole and bamboo trays to catch excess water.
4. Yofui Ferris Wheel Succulent Planter Set
This adorable 6 piece Ferris wheel planter set is super handy for space-saving purposes, as the 2.75" pots allow you to place multiple small succulents in one spot. The wheel is made of bamboo with steel racks and it actually spins.
The ceramic pots have drainage holes and can be removed from their stand for easy watering, which means that you can just place them in the sink until they stop dripping.
5. T4U Ceramic Animal Succulent Planters
These white ceramic succulent planters (a cat and two hippos) are the perfect choice for those looking for cute succulent planters while wanting to keep things neutral in terms of color. The brand also sells different varieties if your preference goes out to other animals.
The pots have a drainage hole and come with little saucers, so you don't have to move them to the sink for watering.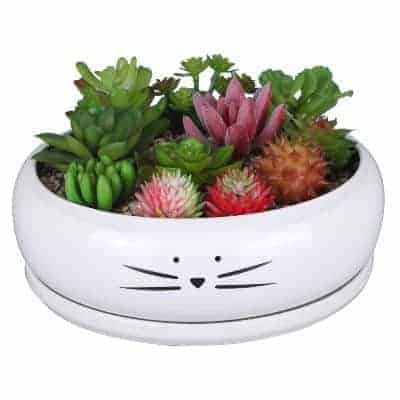 6. Koolkatkoo Cat Succulent Planter
If you're in need of a large succulent planter for multiple plants, this cute ceramic container should be perfect.
White-colored, with a black cat face painted on the front, it has 8" wide and 2.36" high, meaning it can hold plenty of small succulents.
It also has a drainage hole in the bottom and comes with a saucer to catch excess water and keep your succulents from rotting.
1. T4U Mini Glazed Succulent Pots Set
At 2.5" in diameter, these glazed succulent pots are definitely mini! They come in a pack of 12, making them a great choice if you have lots of succulents to plant or would like to give a few away.
Their neutral colors will work in pretty much any home and the drainage hole at the bottom makes growing your succulents successfully much easier.
2. Greenaholics Mandala Succulent Pots Set
We love ourselves some colors and patterns, and this set of three cheerful planters definitely fits the bill. Perfect for succulents with their drainage hole and bamboo saucers, these glazed cylinder-shaped planters are sure to brighten up any room.
A great addition to your desk, a small windowsill or any space that needs a little cheering up.
3. Winemama Marbled Succulent Pots Set
This affordable marbled set of ceramic containers gives your succulent collection a lovely natural look. The set of four small planters resembles marble stones in neutral colors and has a diameter of 2.75".
Their drainage holes help keep your succulents in good condition and their overall look makes them a great choice for neutral interiors.
1. MZ Gardens Glazed Ceramic Snowflake Container
This snowflake container has an unusual flowy and natural look. It's brown in color and pretty generously sized at 11" across, so it can hold a relatively large succulent arrangement with no issues.
Hand-crafted and with a drainage hole for moisture control, this large ceramic planter is definitely an eye-catcher. Also, there's a set of four small containers with a very similar look.
2. Square Ceramic Succulent Planter
If you're looking for a large ceramic planter for your succulents but would like to keep things simple, this square pot should be a great choice. It's big enough to hold plenty of plants, and because it's available in black, white and turquoise, it will look great in every home.
It also has a drainage hole and a saucer, which makes it an excellent container for an indoor succulent garden.
3. MyGift Ceramic Clover Planter
This ceramic planter is large enough to hold many succulents at 9.5" x 4.5" (width x height), and we love its asymmetrical abstract design. Neutral, but bright blue, this planter will definitely add a cheerful note to any room.
Also, it has a drainage hole and a saucer to help you keep your succulents healthy. 
With the right plants, this one should be perfect as a table centerpiece.
1. Mid-Century Succulent Bowl & Wood Stand
This white succulent bowl is very stylish and perfect for minimalist interiors. The planter consists of two pieces: a glossy ceramic container & a stand made from acacia wood.
With a diameter of 10" you'll be able to fit plenty of cacti and succulents in it. It comes with a drainage hole as well as a plug that prevents water from spilling.
There are also combinations available with one or multiple smaller planters in the same style.
2. Marble Pattern Ceramic Succulent Bowl
Marble patterns have been a staple in interiors for quite a while now and they don't seem to be going anywhere.
This marble printed 6.2" ceramic succulent bowl is a great way to use this style and makes for a perfect table centerpiece. Its glossy, white and grey design is neutral enough to put the emphasis on the plants.
It also has a drainage hole as well as a saucer to catch excess water.
3. Modern Unglazed Ceramic Succulent Bowl
If you're not a fan of the glossy look of the previous two succulent bowls, you might appreciate this stylish but neutral unglazed planter a bit more.
Its dark brown color will suit most interiors and with a diameter of 7.75" it fits plenty of succulents.
Like any suitable succulent planter, it has a drainage hole, although it lacks a saucer.
1. White Ceramic Succulent Planter Box
Perfect for holding multiple succulents, this 11" rectangular succulent planter box is a stylish addition to narrow spaces that can't hold a square or round succulent pot.
Simple and elegant, this ceramic planter has a drainage hole and comes with a bamboo saucer.
As a bonus, it's quite affordable!
2. Antique Copper Succulent Planter Box
This handcrafted succulent planter box is a real eye-catcher that can be used both inside and outdoors. It comes in copper as well as a black nickel coloration and at a width of 12" it's one of the largest planters on this list.
It has multiple drainage holes as well as a saucer to catch the water. In a nutshell, your succulents are guaranteed to stay healthy, while the durable design of the planter makes sure they have a home for years to come.
3. Vencer Minimalist Succulent Planter Box
Want to keep things simple and put the succulents in the spotlight rather than the pot they're in?
This succulent planter box is as minimalist as they come and it has an even glossy design in white, light blue or black. Two drainage holes ensure healthy succulents and a matching saucer prevents spillage and messes.
We feel this is the perfect succulent planter box for pretty much any interior style!
1. Geometric Black Succulent Terrarium
We adore geometric style succulent terrariums and this design is the perfect example. This planter is pentagon-shaped with metal rims.
It also has an opening for airflow, which helps to keep your succulents healthy in a terrarium. At a size of 6.89" x 6.89" x 5.9" it's large enough to fit a few small succulents while still fitting on most tables or windowsills.
2. Cohasset Molten Glass & Wood Terrarium
If you're really looking for a piece that will get people talking, use this glass sculpture as a terrarium for your succulents. Made from recycled glass draped over natural wood, it's handcrafted and each piece is unique.
It's available in different sizes with the wood base ranging from 4.5" to 13" wide and makes a fantastic statement piece when combined with the right succulents.
3. KooK Pyramid Hanging Terrarium
Another great statement piece, this gold-rimmed hanging terrarium is a lovely addition to a desk, table or windowsill. It suspends a pyramid-shaped terrarium over an elegant gold-colored metal stand, making for a stylish home for your succulents.
It doesn't take up much space and we can totally imagine it with a nice rosette succulent and a low ground cover species!
Conclusion
As you've probably been able to conclude from this article that discusses 21(!) different succulent pots, there really is a planter for any interior and style preference.
Your succulents can have a stylish home no matter your budget, so pick your favorite and get planting.
Also, let us know what's your favorite by adding a comment below!