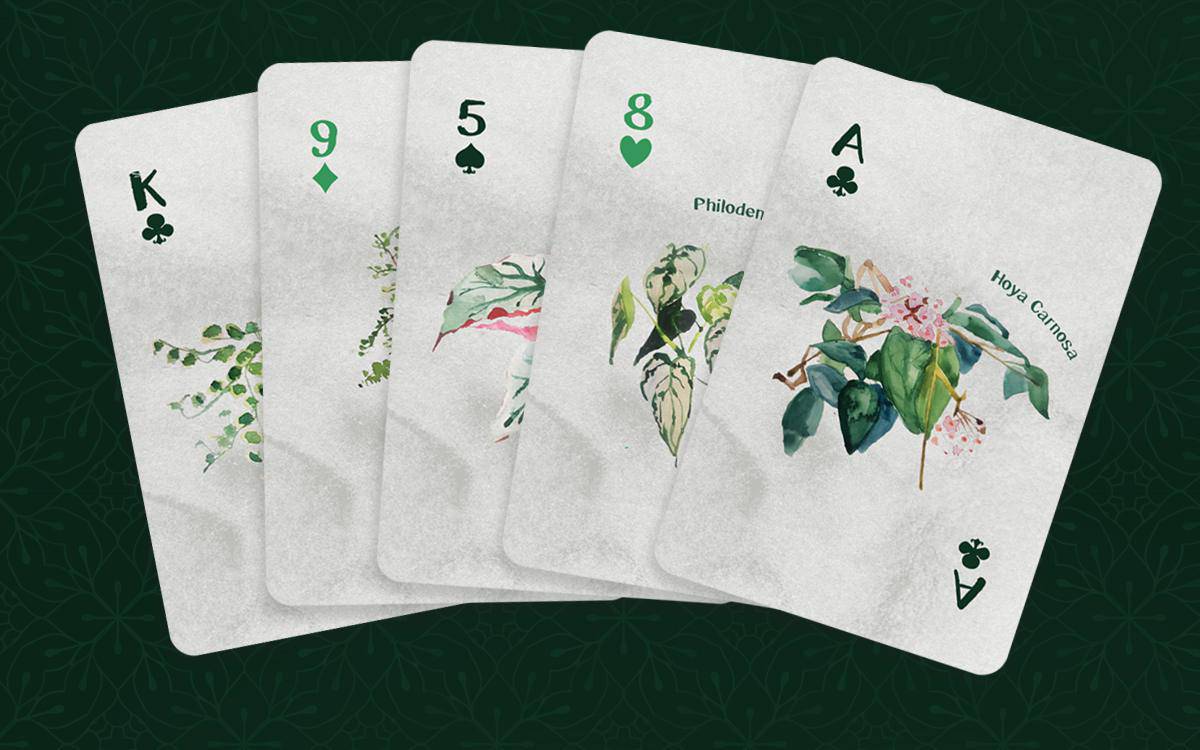 YHMAG's Floral Playing Card Deck
Specifications:
Number of cards: 54 Cards
Cards' size: 2.48" x 3.46" (63mm x 88mm)
Packaging: Window tuck box
Price: $24.99/pack
* Shipping not included in the price mentioned above
How did it all start?
Well, we wanted to make something unique for our fellow plant lovers around the world.
Something that will remind you of your beloved plants when hanging out with friends, family, and loved ones.
Something that truly screams "I FREAKING LOVE PLANTS!" and that's not a sticker or a notebook.
And, maybe, something that will help you spread the love for our awesome green companions that give us so much joy by merely existing.
So, we've decided to make our own custom deck of floral playing cards, featuring everybody's favorite houseplants!
It's been a while since we came up with the idea of our own plant-themed playing cards and we worked a lot to make sure it's up to our expectations. We felt that a watercolor design would fit this topic best and we're really happy with how they look.
Here's a sneak peek at how our Floral Playing Cards turned out:
For 2s, we have succulents: sempervivum, haworthia, echeveria, and pachyveria.

3s

have ivy species on them: hedera helix glacier, hedera helix chicago, hedera helix mona lisa, and hedera helix scutifolia.
4s are cacti cards: melocactus conoideus longispinus, pilosocereus azureus, cephalocereus senilis, and opuntia microdasys.
5s show off the begonia genus: begonia escargot, begonia chicago fire, begonia wightii, and begonia looking glass.
6s are about colocasias and alocasias: alocasia amazonica, colocasia esculenta mojito, colocasia esculenta pink China, and colocasia esculenta midnight.
7s have orchids: ludisia discolor, cattleya, phalaenopsis, and oncidium.
8s are dominated by philodendrons: philodendron hederaceum micans, philodendron grazialae, philodendrum brandtianum, and philodendron rojo congo.
9s show off ferns: nephrolepsis exaltata, adiantum aethiopicum, platycerium bifurcatum, and asplenium nidus.
Snake plants for 10s: sansevieria trifasciata cylindrica, sansevieria trifasciata moonshine, sansevieria masoniana, and sansevieria cleopatra.
Jacks have pothos plants: epipremnum aureum marble queen, epipremnum neon, epipremnum manjula, and epipremnum pinnatum cebu blue.
Queens are calatheas (no need to explain why): calathea roseopicta medallion, calathea ornata, calathea freddie, and calathea orbifolia.
Ficus plants for Kings: ficus pumila bellus, ficus elastica robusta tineke, ficus elastica burgundy, and ficus lyrata.
Aces are hoyas 'cause, well, they're some of the strongest houseplants: hoya carnosa, hoya kerrii, hoya lacunosa, and hoya compacta regalis.
And, finally, the Jokers are chlorophytum comosum and zamioculcas raven.
Feel free to tag us on your social media accounts and show us how you put them to good use.
Hope you'll enjoy our deck of floral cards as much as we do! Let us know your thoughts in the comment section below.